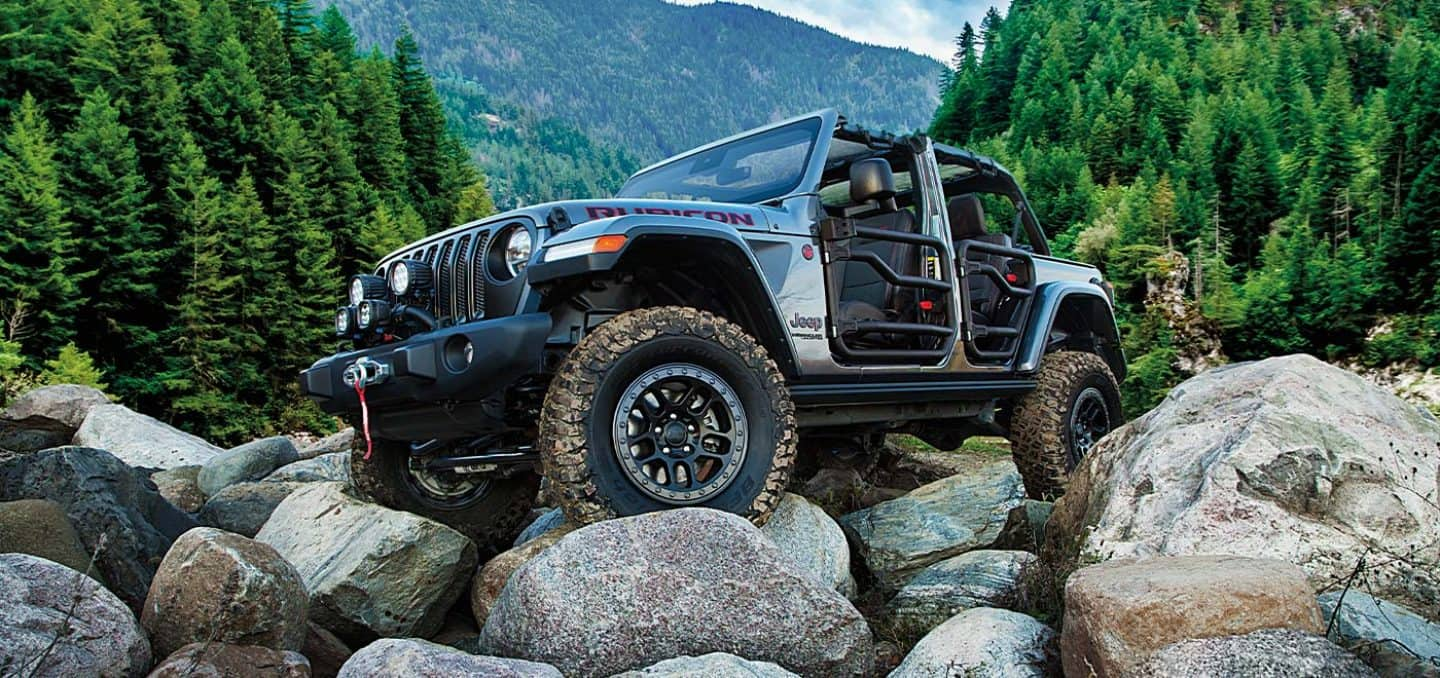 What is Jeep Trail Rated?
Written by Reedman-Toll DCJR Jenkintown
Jeep has spent many years mastering the art of creating the perfect off-road capable vehicle. So much so that in 1994, Jeep developed the Trail Rated badge that is placed on the front fender of the Jeep vehicles that have passed the Trail Rated test. These badges aren't just slapped on random models, they are earned. All Jeep Trail Rated vehicles are required to pass a daunting test specifically designed to push the car beyond its limits. The test features five different segments, articulation, ground clearance, maneuverability, traction, and water fording. Keep reading below to see what goes into each Trail Rated Jeep!
Where does Jeep perform the Trail Rated test?
To push a vehicle to its limits, you need some very tough trails. This is why Jeep uses California's Rubicon Trail high in the Sierra Nevada Mountain Range. The rugged terrain on the Rubicon Trail is constantly changing due to harsh weather and constant traffic. The massive rocks and boulders are a fantastic place to test the vehicle's articulation and ground clearance. The grueling terrain of Moab, Utah is the other testing site. These rocky surfaces are perfect for testing traction, maneuverability, and ground clearance. Some features of Moab, like the Hot Tub, make even the most seasoned test drivers shudder.
What tests do Trail Rated Jeep's pass?
Articulation is how far your suspension travels up and down to keep all four wheels on the ground. When you're off-roading, having four wheels planted is good for keeping you in control. From deep potholes to treacherous terrain, a Trail Rated Jeep can get through it.
Traction is how well your vehicle keeps a grip on the surface the tires are on. This test is in place to test just how good the legendary Jeep 4x4 systems are. Even on inclement road conditions, Jeep Trail Rated vehicles will keep you heading in the right direction.
Ground clearance is tested to measure the distance between the bottom of the Jeep vehicle being tested and the surface beneath it. The ground clearance test examines the approach angle, the breakover angle, and the departure angle. These angles have all been maximized for Jeep's eligible for the Trail Rated badge to take them where others might not dare.   
Maneuverability tests make sure that the subject can traverse over challenging terrain and sharp switchbacks while maintaining control. Trail Rated vehicles earn their badge with carefully crafted wheelbases and steering systems.
Water fording is how much water a Trail Rated Jeep can take on. A great example of this is the 2021 Jeep Wrangler, which can drive through up to 30 inches of water without any damage. This is thanks to the sealed electrical connections and wires and the highly placed air intake.

Why does Jeep perform the Trail Rated test?
Consumers and car critics have all held Jeep to a high standard, especially when it comes to off-road capability. For the past 80 years, Jeep has prided itself on consistently creating some of the most capable vehicles in the world. Jeep created the Trail Rated program in 1994 to continue to exceed the expectations that critics, everyday drivers, and off-road enthusiasts all have from the Jeep Brand. Jeep performs the tests to ensure that their vehicles are still as capable as they say they are.
Get a Trail Rated Jeep at Reedman-Toll DCJR Jenkintown
You may never need a vehicle that can climb a nearly vertical rock face, but if it can do that, it can handle anything you need it to! If you want to get behind the wheel of a Trail Rated Jeep vehicle, we invite you to check out our Jeep inventory right here online. If you prefer, you can come on down to Reedman-Toll Dodge Chrysler Jeep Ram of Jenkintown to experience the capability of Jeep Trail Rated today!