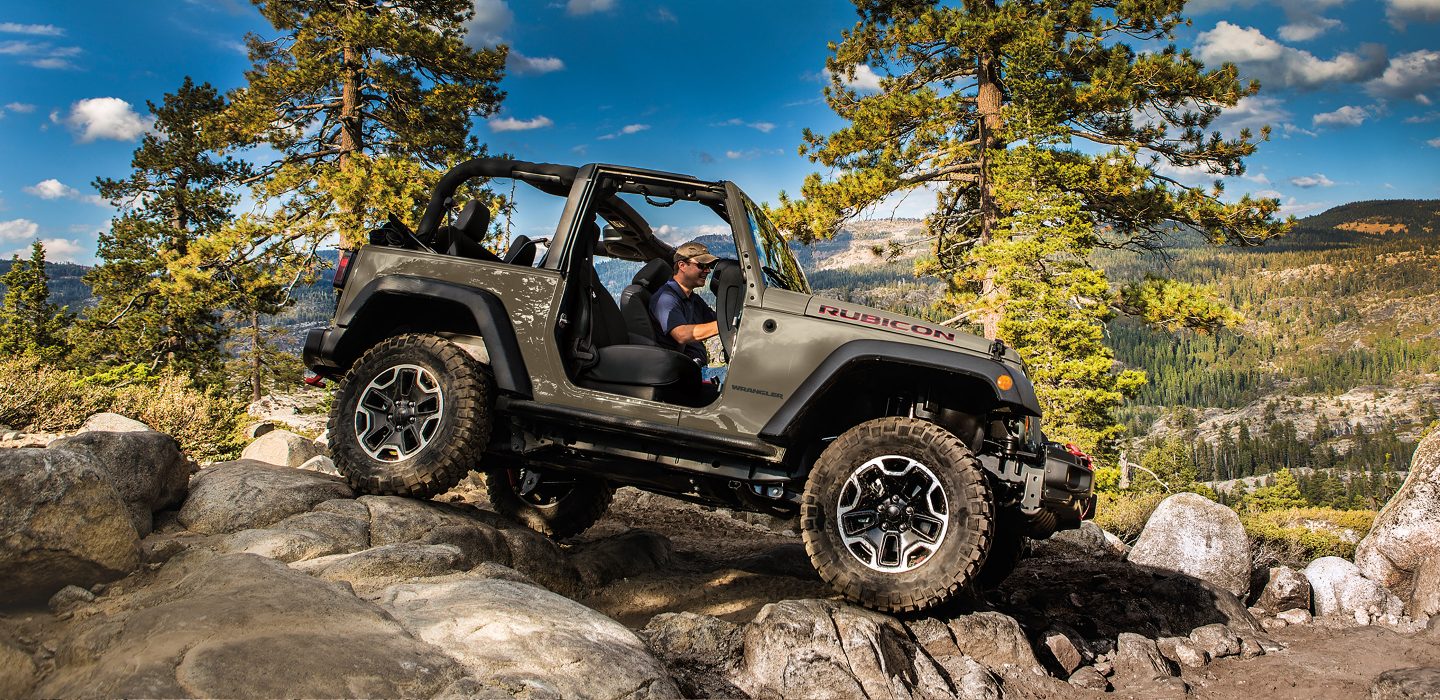 Rugged capability both on and off road is one of the most appealing things about a Jeep Wrangler. Whether you opted for a Wrangler for simple peace of mind navigating tough weather conditions and back roads or are planning to take yours on epic off-road adventures, you'll want to think about tires. The best tires for your Wrangler will depend on your plans for the vehicle, so you'll need to think about the kinds of surfaces you'll be tackling. Is your Wrangler going to be your daily driver? Your way of getting to fishing spots, camp sites and other locations off the beaten path? Or an adventure-exclusive vehicle just for hardcore fun? Will you be encountering snow, mud, rock, sand, or a combination? Check out our recommendations for daily drivers, mudders, winter drivers and more, and think about where your Wrangler fits in among the ranks.
The Capable Daily Driver:
Your Wrangler is your go-to vehicle, transporting you to work, school, the grocery store and everywhere else you need to go from day to day. Still, you live in an area with gravelly back roads and long dirt driveways, and you want to make sure that your vehicle is more than capable of tackling the tougher surfaces you might encounter. For this Wrangler, check out some rugged all-terrain tires that can take out rough terrain but still offer stability on the road and highway. Some possible picks in this department are the BFGoodrich All-Terrain T/A K02 All-Season Radial Tire, the Federal Couragia M/T Radial Tire, and the Dick Cepek Extreme Country Tire.
The Adventure Transport:
For you, off-road capability is about getting where you need to go to experience the great outdoors face-to-face. Navigating off-road conditions to reach campsites, trail heads, fishing spots and more is a task you feel comfortable taking on in your trusty Wrangler, and you want to be able to get in and out easily in order to maximize your time in the wild. Since you might be navigating new spots all the time, you'll want versatile off-road tires that can take on the unexpected. Consider the Mickey Thompson Baja Claw TTC Radial Tire or the Nitta Trail Grappler M/T Tire.
The Muddy Maneuverer:
In your opinion, it doesn't count as "off-roading" unless your Wrangler is splattered with mud from tires to top by the end of the day. Mud season is your favorite season. While mudding means lot of fun, it also means complicated driving and danger of getting stuck. Looking to mud-specific tires can help make sure that you spend your day driving through the mud, not mucking around in it trying to get your vehicle loose. Tires like the BFGoodrich Mud-Terrain T/A KM2 Tire, the Interco Super Swamper TSL/Bogger Tire, or the Nitta Mud Grappler are good choices for you.
The Rocky Roadster:
You get a kick out of boldly going where most people wouldn't dare. Crawling your Wrangler over chunky rocks, you take serious advantage of its superior ground clearance and breakover angle, and navigate some pretty intense terrain. These tough surfaces can vary from smooth to sharp, and put some serious wear and tear on your tires, so you'll want to look for something think and sturdy, with good grip. Top picks for you include the Interco IROK, the Maxxis Creepy Crawler, and the Pit Bull Rocker.
The Winter Warrior:
You're no stranger to white winters. While the winter snows in your area may keep your neighbors holed up and waiting for the plows, you and your Wrangler can take on the roads all year round. In fact, maybe you've even outfitted your trusted Jeep with a plow of its own. When the white stuff starts falling and you need to hit the road, you want to be able to trust your tires as much as your trust your vehicle. Consider the Toyo Open Country M/T, the Goodyear Wrangler DuraTrac, the Pro Comp Xtreme MT2 Radial Tire, or the Interco Super Swamper Winter tires for to get the ultimate grip on this winter.