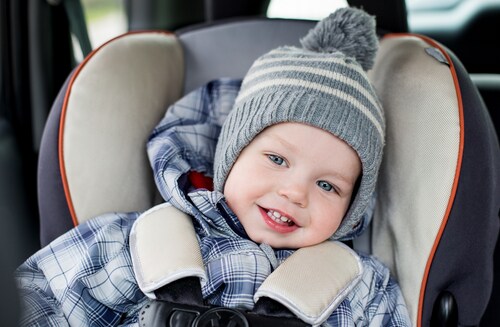 Coats and Carseats   
It gets very cold here in the Northeast. Consecutive snowstorms and freezing temperatures means it's definitely winter and so you dress accordingly. However, one of the biggest mistakes parents make in the car over the cold months has to do with the very thing we do to protect their little bodies from the elements. 
Simply put, winter coats and carseats don't mix. 
It can be very tough for parents to reconcile. Babies don't regulate their body temperature the way adults do, and we want them to be warm in the car. But if a child is wearing a large coat, it can make it so the car sear straps are not able to work properly. In order to buckle the straps over those bulky coats, you have to loosen the straps. No matter how safe of a driver YOU are, a crash IS a possibility every time you drive. 
Here's a test you can use to see if your child's winter coat is safe. 
Place your child in the carseat while wearing their winter coat. Tighten the harness until you can't pinch the straps with your thumb and forefinger. 
Without loosening the harness, unbuckle the straps and have the child get out. 
Take the coat off and put your child back in the seat, again, without adjusting the harness. 
If you can now pinch the straps, the coat is too bulky for the carseat. This loose harness is what protection your child would have in a crash. 
So what CAN you do? 
Choose a thinner fleece as your "car seat coat." There are several good quality fleeces that are extremely warm. Unless you are spending a lot of time outside, these fleeces are warm enough to run errands or travel in. Remember to pack your child's "outdoor coat" in a bag for school. 
Keep a blanket in the car to put over your children (once they're buckled) if you feel the car is too cold for a fleece. 
You can put the heavy coat on backwards over your child in lieu of a blanket.
Search Pinterest and Etsy for some very creative "car seat ponchos" - or even make your own! 
Base layers (long underwear) are more effective than outer layers. 
There are MANY options to keep your child warm in the car, no matter how cold it is outside. But buckling a harness over a heavy coat isn't one of them.
Contact
 Caitlin Chrysler Dodge Jeep RAM if you are looking for more safety tips in regards to traveling with children. You may also want to check out the dealership's
video blog
 to give you ideas of what to look for in your next family vehicle!