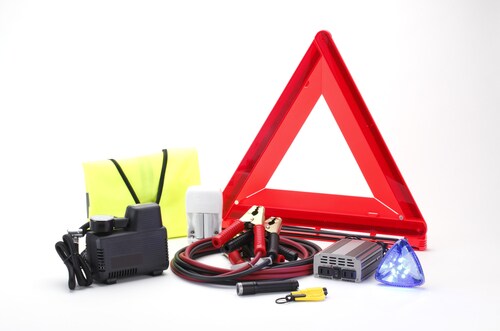 DIY Emergency Car Care Kit 
As a Girl Scout, we carried DIY first aid kits around our necks when hiking and camping. Everything, from bandages to sunblock, was in those kits, but I never appreciated any of it until I actually needed it. The same was true for my emergency roadside kit; I always figured I'll just call the number on my AAA card and wait for my knight in shining armor to come rescue me. I never factored in the essence of time or the possibility that sometimes waiting isn't an option, like when you're carting around precious cargo in the form of three little kids. After being stranded once, I told myself never again. I made and now keep an emergency car care kit in the trunk just in case. My abilities are limited, so I can only do so much, but the following essentials are in my kit: 
Roadside flares to warn other drivers of my impending broken down vehicle. Cars don't always quit on us when conveniently parked on the side of the road! 
Blankets, umbrellas, ponchos, and anything else I may need to ward off the elements if we've got to abandon our car. 
Jumper cables and a tire pressure gauge, and the ability to use them correctly! 
Thick gloves that protect my hands and help me grip. I learned the hard way that those tire caps are impossible to handle in the rain and snow. 
Water and windshield washer fluid. Drivers use twice as much windshield washer fluid in bad weather conditions, which just happens to be when they're most often to break down, too. Always carry extra! ·
Rags. They'll come in handy for checking the oil or cleaning off a muddy windshield.
Motor oil. 
A flashlight or headlamp. 
A hammer, duct tape, and bungee cords. 
I know this probably pales in comparison to what others may carry, but what those three things can't fix, AAA can. I hope you never have to use it, but having an emergency car care kit in the trunk means you'll always be prepared should you have to.
About the Author: Stephanie J is the owner and author of the blog 
When Crazy Meets Exhaustion 
(//whencrazymeetsexhaustion.com/), where she writes about Family, Humor, Health & Beauty Tips, Local Events, and more! Follow her on 
Facebook
.